Prestained Protein MW Marker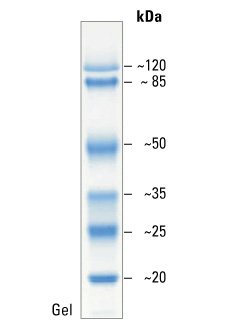 Detailní informace
Kód produktu: 26612
Detailní popis Prestained Protein MW Marker
A prestained SDS-PAGE MW marker composed of blue-colored native proteins, 20 to 120 kDa.
The Thermo Scientific Pierce Prestained Protein Molecular Weight Marker is a mixture of six blue-stained natural proteins (20 to 120 kDa) for use as size standards in protein electrophoresis (SDS-PAGE).
This prestained protein MW marker is designed for monitoring the progress of SDS-polyacrylamide gel electrophoresis, for assessing transfer efficiency onto PVDF, nylon and nitrocellulose membranes, and for estimating the approximate size of separated proteins (1-3) that have been made visible with gel stains or Western blot detection reagents.
Highlights
Size range – six proteins spanning 20 to 120 kDa
Ready-to-use – supplied in a loading buffer for direct loading on gels
Prestained – for direct viewing during electrophoresis
Quality tested – each lot evaluated by SDS-PAGE and Western blotting
Applications
Monitoring protein migration during SDS-polyacrylamide gel electrophoresis.
Monitoring protein transfer onto membranes after Western blotting
Sizing of proteins on SDS-polyacrylamide gels and Western blots

Hazardous
No
Quality Control
Tested in SDS-polyacrylamide gel electrophoresis and Western Blotting.
Storage
Store at -20°C.
Storage Buffer

Dye-stained proteins in 62.5 mM Tris-HCl (pH 7.5 at 25°C), 1 mM EDTA, 2% SDS, 10 mM DTT, 1.5 mM NaN3, and 33% glycerol
Component proteins: beta-galactosidase (120 kDa), bovine serum albumin (85 kDa), ovalbumin (50 kDa), cardonic anhydrase (35 kDa), beta-lactoglobulin (25 kDa), lysozyme (20 kDa)